Feeling of freedom with jet ski
over 16 years without license in St Cyprien
JET SKI RENTAL WITHOUT LICENSE
ACCOMPANIED BY A FULLY QUALIFIED INSTRUCTOR
Would you like to discover the thrill of jet skiing without license ? There are several formulas according to your wishes and your experience. If you are over 16 you can ride a jet ski and even take one or two other adults as a passenger for free !
Experience the feeling of jet skiing supervised by the Jet Aventure team.
" Come and ride your jet ski without license "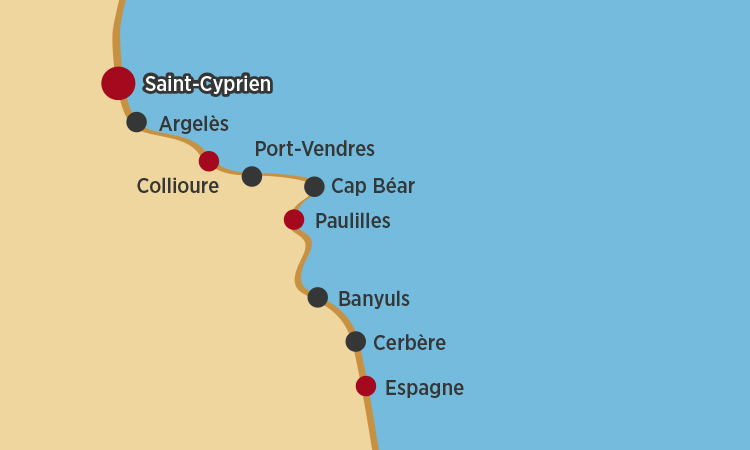 We welcome you to share your first experiences on board our jet skis without license and in a safe environment.
The calm and enclosed water in front of our nautical base allows you to fully enjoy a peaceful first-time ride. In order to offer you an exciting start, our team will monitor your evolution in an area close to our nautical base. These solutions are especially suitable for young people or for testing our jet skis before riding to the open sea !
" Make your dream come true,
thanks to the flexibility of our offers "
We escort and guide you to open sea tours. You will discover the pleasure of driving the jet skis discovering the breathtaking beauty of the Catalan coast.
We offer a wide range of tours to enjoy all sights of the Côte Vermeille.
From Saint-Cyprien head south towards Béar. This stretch of the coast with its famous harbours : Argelès sur Mer, Collioure, Port-Vendres, Banyuls and Cerbère is the jewel of the Eastern Pyrenees.
Jet Aventure even suggests mythical tours, such as the idyllic break in the Paulilles Creek or the sunset in the Bay of Collioure in front of its legendary bell tower.
JET ADVENTURE ACCOMPANIES YOU IN THE BEST OCCASIONS !
The rental of jet skis without license gives you the chance to experience the ride of your life in a safe environment. Our fully qualified instructors provide you a warm and professional welcome that will delight your guests.
We help you organise your nautical activities in any occasion :
Birthdays
Hen parties
Stag parties
Corporate
Groups
School trips
Tours*
45min-tour
St-Cyprien
Argelès
Le Racou
75€*
60min-tour
St-Cyprien
Argelès
Collioure
90€
1h50-tour
St-Cyprien
Argelès
Collioure
Port-Vendres
Cap Béar
Paulilles.
160€
1/2 day-tour
St-Cyprien
Argelès
Collioure
Port-Vendres
Cap Béar
Banyuls
Cerbère
Espagne
290€
* Low season rates. Not available from July 15th to September 7th.