THE ADVENTURE OF
JET SKIING !
IF YOU HAVE A BOATING LICENSE, WE OFFER THE RENTAL OF A FLEET OF HIGH PERFOMANCE JET SKIS.
Do you want to experience the thrill of skimming across the sea while enjoying the incredible sights of Saint-Cyprien ? Jet Adventure is the ideal partner for your most beautiful tours.
" Take advantage of our experience to ride in total freedom "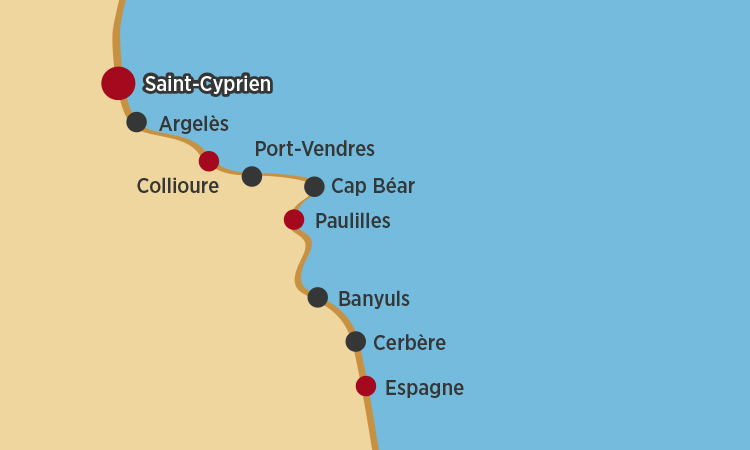 Together we establish the list of your wishes. Let us know the emotions you expect, and we will offer you exciting plans !
Our watercrafts combine power, comfort and accessibility, all models are from 2018.
We show you the essential places to discover in the Côte Vermeille: Argelès sur Mer, Collioure and its legendary bell tower, Port-Vendres, Paulilles and its idyllic cove, Banyuls sur Mer, Cerbère at the famous Cape Béar.
The Northern Catalan coast is equally awesome. Canet en Roussillon, Torreilles, Sainte-Marie, Le Barcarès, Leucate are also accessible from the port of St Cyprien.
" Write the story of your most distinctive tours "
Come and discover our thrilling sport riding experience.
As experienced professionals, we explain you how to optimize the rental time. Explore all the possibilities offered by this water sport: resistance, acceleration, straight lines, tight turns, flights.
You will be given a full safety briefing beforehand which will consist of all the safety and legal aspects based on current legislation.
SINGLE PRICE FOR ONE, TWO OR THREE PEOPLE
IN THE SAME JET SKI !
Do you have the boating license and want to embark one or two passengers to share this unique adventure ? It is possible !
The price does not change whether you are one or two. Mandatory requirement : only holders of the boating license can ride the Jet Ski.
jet-ski with license
our prices
SEADOO GTI 130
SEADOO GTR 230